Brandy Benson, Psy.D., Licensed Psychologist, Founder of Tampa Bay Psychology Associates
Dr Brandy Benson, Chief Psychologist of TBPA, is a licensed clinical psychologist specializing in behavioral health and wellness of First Responders. Her clientele ranges from law enforcement, fire rescue, emergency medical personnel, dispatchers, federal agents, and family members. She has worked closely with various police and fire rescue agencies across the State of Florida, as well as agencies under the Department of Justice and the Department of Corrections.
Dr. Benson's areas of service include crisis intervention, trauma therapy, and Employee Assistance Program (EAP) development and provision. She also specializes in fitness-for-duty, pre-employment, post-incident, and psychological clearance evaluations. Most recently, Dr. Benson has been hired by several agencies to assist with consultation and development of Officer Wellness and Safety programs to support increased utilization of mental health services by employees, as well as overall resiliency and prevention efforts of PTSD, Suicide, and other psychological conditions impacting the First Responding Community. Dr. Benson is also a published author on topics of commercialized sexual exploitation of children with the FBI and police suicide.
Dr. Benson earned her doctorate in Clinical Psychology from Nova Southeastern University in Fort Lauderdale, Florida. She completed her clinical internship with the Federal Bureau of Prisons where she worked with incarcerated men and women with serious mental illness. Prior to this, she completed formal trainings at the Family Violence Program, the Miami VA Healthcare System, and the Miami Federal Detention Center, as well as informal trainings in psychoeducational evaluations and pediatric therapy. Dr. Benson has engaged in outpatient practice since 2012, both in Fort Lauderdale/Miami and Tampa/St. Petersburg.
In therapy, Dr. Benson utilizes a variety of techniques to cater to the unique needs and histories of each individual, family, and couple. Therapy commonly integrates solution-focused and process-oriented interventions, positive psychology, and therapeutic life skills with the intention of creating a more balanced and meaningful sense of life and health.
Ready to work with Dr. Benson?
Talia Barron, Psy.D., Licensed Psychologist, Assessment Specialist
Dr. Barron is a Licensed Psychologist, and native of the Tampa Bay area. She specializes in comprehensive neuropsychological, developmental, and psychoeducational assessment. Dr. Barron is highly proficient in the administration of a wide range of psychological measures for children, adolescents, and adults with developmental and learning disabilities, attention-related disorders as well as social and emotional difficulties. Dr. Barron will utilize a methodological approach to formulate an integrated evaluation. Specific feedback will aid in diagnostic clarification, and will include remedial and prospective recommendations that are explicitly prepared to best meet the needs of children in both the home and school environments.
Dr. Barron received her Bachelor's degree from the University of Florida, and earned her Master's and Doctoral degrees in Clinical Psychology from Nova Southeastern University. Prior to this, Dr. Barron became proficient in delivering many of the treatments she recommends within her assessment practices. In this capacity, Dr. Barron gained diverse experiences providing evidence-based interventions in outpatient individual, couples, family, and group counseling formats.
Dr. Barron also has training in early intervention, parent-child, parent-teen, and group interventions for individuals presenting with emotional and behavioral concerns. In addition, Dr. Barron is well versed in cognitive, behavioral and dialectical behavioral treatment models, and validation therapy applying client-centered treatment strategies. She has also conducted numerous social skills groups in community-based and educational treatment settings. In addition to her practical experience, Dr. Barron has taught graduate courses in intervention, integrated report writing, and social and cultural foundations of counseling, and has supervised others conducting individual and group therapy, crisis management, suicide assessment, and case management for populations with histories of serious mental illness and trauma.
Above all, Dr. Barron is dedicated to providing patients and their families with a friendly, warm environment, where all individuals can experience ease with establishing professional rapport and feel confident in the delivery of competent, proficient, and valuable services. Within our practice, Dr. Barron strives for each individual to gain a greater understanding and awareness of their symptom presentation, while simultaneously encompassing their various strengths so as to feel empowered in managing their respective challenges.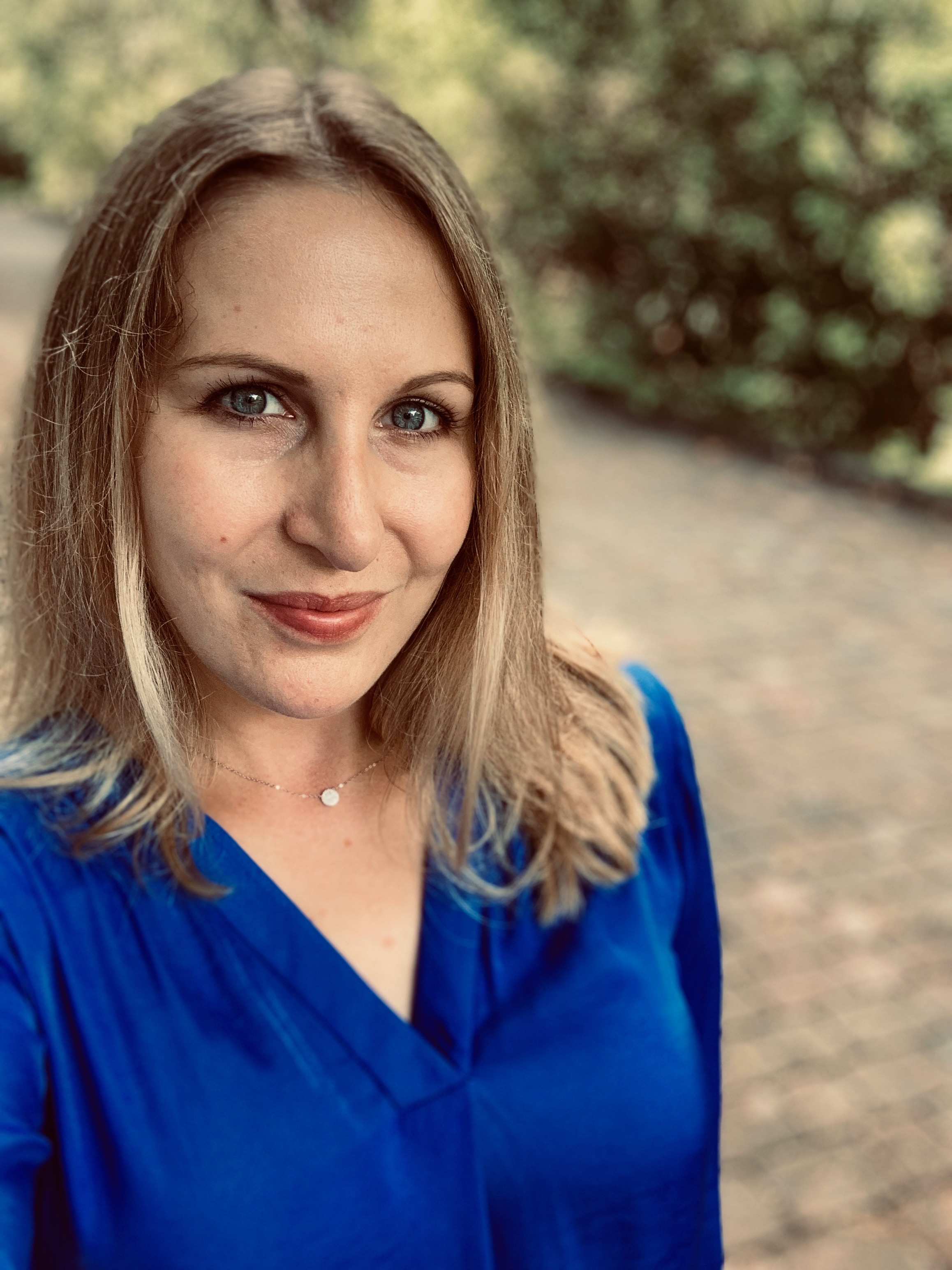 Rachel Menger, M.A., Mental Health Counseling
Rachel Menger, MA, comes to Tampa Bay Psychology Associates from her home state of New York by way of Colorado, where she earned her Masters in Forensic Psychology from the University of Denver. A veteran of the field of corrections, Rachel began her career in mental health conducting research at a private forensic practice in Manhattan, where she worked on large-scale and high-profile homicide cases. She continued her career at New York City's Rikers Island Jail, then moved to Colorado, where she worked with the county of Denver, community corrections, Denver Adult Probation, and, most recently, handled crisis and triage with the Boulder County Sheriff's Office.
At Tampa Bay Psychology Associates, Rachel specializes in relationship and communication issues, and welcomes to therapy individuals and couples who are looking to work toward growing together and resolving unhelpful patterns in their relationships. She also counsels teens and adults on a variety of matters including family conflicts, identity formation, substance use/abuse, anxiety, low self-esteem, PTSD, and depression. Rachel is trained in E.M.D.R. therapy, a non-invasive form of trauma-resolution therapy that helps her clients overcome the subtle but long-term barriers to happiness that are caused by exposure to negative life events, big and small. Working within a customized, goal-motivated therapeutic relationship, Rachel's clients learn to help themselves to cope with life's challenges in ways that build positive and healthy habits that will last.
Rachel works with law enforcement and first responders to resolve specific job-related issues as well as day-to-day home-life stressors. As someone with numerous friends and family members in the fields of law enforcement and crisis response, Rachel brings personal as well as professional experience to her approaches to the unique challenges that face first-responder clients.
Molly & Blue, Therapy Dogs
Molly is a special addition to Tampa Bay Psychology Associates. She is a rescued, Brittany Spaniel mix and certified therapy dog. She has worked with and helped children and adults with a wide array of presenting concerns, including: dementia, ASD, anxiety, depression, trauma processing, and behavioral issues. She contributes to a joyful and comfortable atmosphere in the office for both staff and clients. Molly is happy to participate in play therapy with children or provide emotional support when needed. Although just one component of treatment, Molly is receptive and responsive to everyone that comes into the office and her presence can enrich any therapy experience. One of her newest and favorite jobs is to visit with her First Responders. Molly provides a boost to morale and an ability to break away from a stressful job.
Blue is TBPA's newest addition! He is a handful but full of love to give. His favorite job? Snuggling on laps during session. He also appreciates the dog cookies in the waiting room!